The Trièves thanks its charm to its landscape, both homogeneous and contrasted and particurly well preserved.
With the valley of the Drac, the cliffs of the Vercors and the Dévoluy for its frontiers, the Trièves consists of small landscapes, shaped by milleniums of mens hands working, accessible by passing the mountain villages and bypassing the mountains.
The landscapes offer a spectacular contrast, undoubtedly unique, between the placidity of timeless countryside and impressive mountain panoramas on the background.
In the heart of this landscape the colours, the material and the shapes of the country architecture testify of the close and respectful relationship that the men and women have maintained with this country since time.
What can you do in Mens?
See the agenda of events at Mens 🇫🇷
What can you do in the Trièves?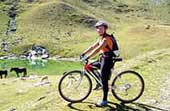 The Trièves is a country for walking and hiking, on foot, horseback,  mountain bike or touring bike. Many hiking trails are marked out.
For those who prefer going higher, summits surround the land: The Obiou 2789 m, The Grand Ferrand 2761 m, The Mont Aiguille 2086 m, not forgetting the Vercors Highlands.
Le Trièves vous offre un large éventail d'autres activités :
Climbing (walls and rocks),
Initiation riding, hiking (Chevauchée trièvoise)
Paragliding (official off site: Courtet),
Bungee jumping (Pont de Ponsonnas),
Canyoning / hydro, wind surfing (Lac du Monteynard, Lac du Sautet), 
via ferrata, 
Acrobranche (tree climbing Parcours Aventures Trièves)
Cross-country & alpine skiing (Superdévoluy, Alpe du Grand Serre, Gresse en Vercors)
Tasting of local products,
...
Unique in Europe : The Himalayan Gateways.
Do not miss: Eco Park Terre Vivante
In the village of Mens, historic town:
All kinds of shops
Restaurants and cafes
Medical center
Pharmacy
Veterinarian
...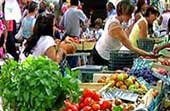 Visit the official website of the Tourist Office for all information on Mens and Trièves: museums, shows, shops, it's all there!
In the section Videos you can admire the wonderfull landscapes of the Trièves.